I guess I haven't posted a real blog post since June or July.
Oops.
Much has happened.
Christine and I are engaged!
I'm so excited.
We probably have the one of the least exciting engagement stories in 50 years.
But after you've been dating somebody for three years, it's not like you can surprise them with a proposal.
"Betcha didn't know I like you!"
Christine and I were talking one night about how we'd really love to get married some time soon, so we sat down with her dad and asked what he thought of the idea.
He said it'd be fine.
So with that, we updated our relationship status and became engaged.
The next week, we went to the mall and picked out a nice engagement ring together.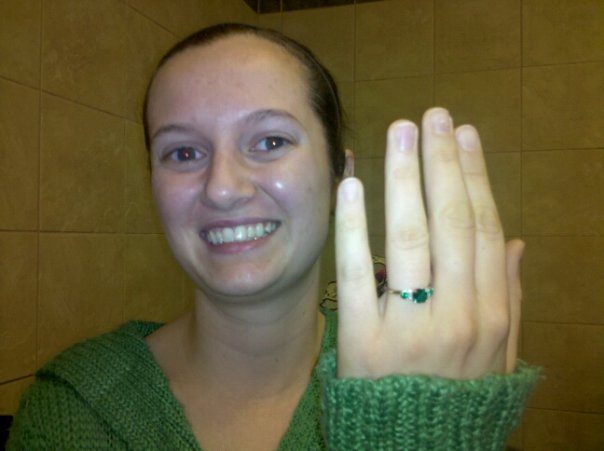 We're really not terribly traditional, and Christine admitted that had I tried anything "fancy or romantic" she probably would have laughed at me.
But we like things this way 😛:p
When Christine's grandpa proposed to his wife, they were married by the weekend.
Let's get married.
Ok, how about Friday?
Christine and I won't be married quite that quickly, but are well on our way with wedding plans.
We have a date picked, a church booked, a reception venue, caterer, photographer, cake decorator, band, and plenty of other things lined up.
I'm not sure how much I'm allowed to talk about, and how much is supposed to be a secret, but suffice it to say that Christine and I are both quite excited about becoming husband and wife, and can't wait to have our friends and family with us as we make our vows to each other.
Also, we have decided that we will not be updating our Facebook or Twitter from the wedding like some people have been known to do.