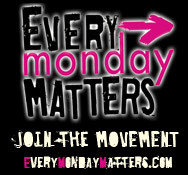 This is the first in a series of (hopefully) 52 posts related to the book
Every Monday Matters
. I'd love it if some other people wanted to go through the book with me. Contact me if you're interested.
What matters most?
What is most important to me?
My relationship with Jesus
My family (by blood or otherwise) and friends
Making a difference in the world / showing Christ's love
My health
Security
What are some of my
required
weekly activities (that are in line with my goals)?
Going to work ~35 hours (Part of security. Don't want to live on the street)
Spending time with family and friends ~40 hours (NEED time with these people)
Working out ~3 hours (I should spend more time working out. Need to be in better shape)
Praying ~not nearly enough (I especially love reading my friends blogs and praying for specific things they mention)
Some things that I spend way too much time on:
Aimlessly surfing the internet (this is huge!)
Sleeping
Waiting / just sitting around
Worrying
I think the fact that I meant to post this on Monday and it's now Wednesday is a huge sign that this is a big problem for me. Prioritizing my life is step 1.