Well, we're back from Beverly Hills.
Sans Lamborghini.
LM002 had to go back to O'Gara Coach Company to figure out why it was having so much trouble starting.
It's really frustrating that they said they fixed the problem, but it was still having problems.
As I've said before, they're good people, and I'm sure they'll make things right.
So, instead of driving back to Iowa with the Lambo, we (Dr. Warner, Mike and I) spent the weekend on The Strip in Las Vegas.
We spent several hours one Sunday afternoon just walking up and down the street and looking at all the extravagant buildings. Sunday night we all went to see Blue Man Group, which is quickly becoming a requisite for all of my vacations.
Mike was reluctant to go to Blue Man Group because he saw them when they came to Omaha (as did Christine and I). Mike said there are a hundred shows on the strip and it might be a waste to see something that we'd seen before.
Fortunately, I was able to prod him into going.
Now, call me a geek, but I love Blue Man Group. This was my fourth time seeing them, and it really does get better each time.
Their Las Vegas show is defiantly the biggest and most extravagant. If you're going to make a special trip to see them, The Venetian is the place to go.
Utne Wire Man, which is one of my favorite songs from any band, was an amazing performance. I have several ideas, but if anybody knows what the "Wire Man" suits are made of, I'd love to know how they get that effect.
After the show, Mike said he was glad we went. It was different enough from the show in Omaha that it wasn't boring.
Dr. Warner even said if we had another night in Vegas, he'd like to go back and see them again.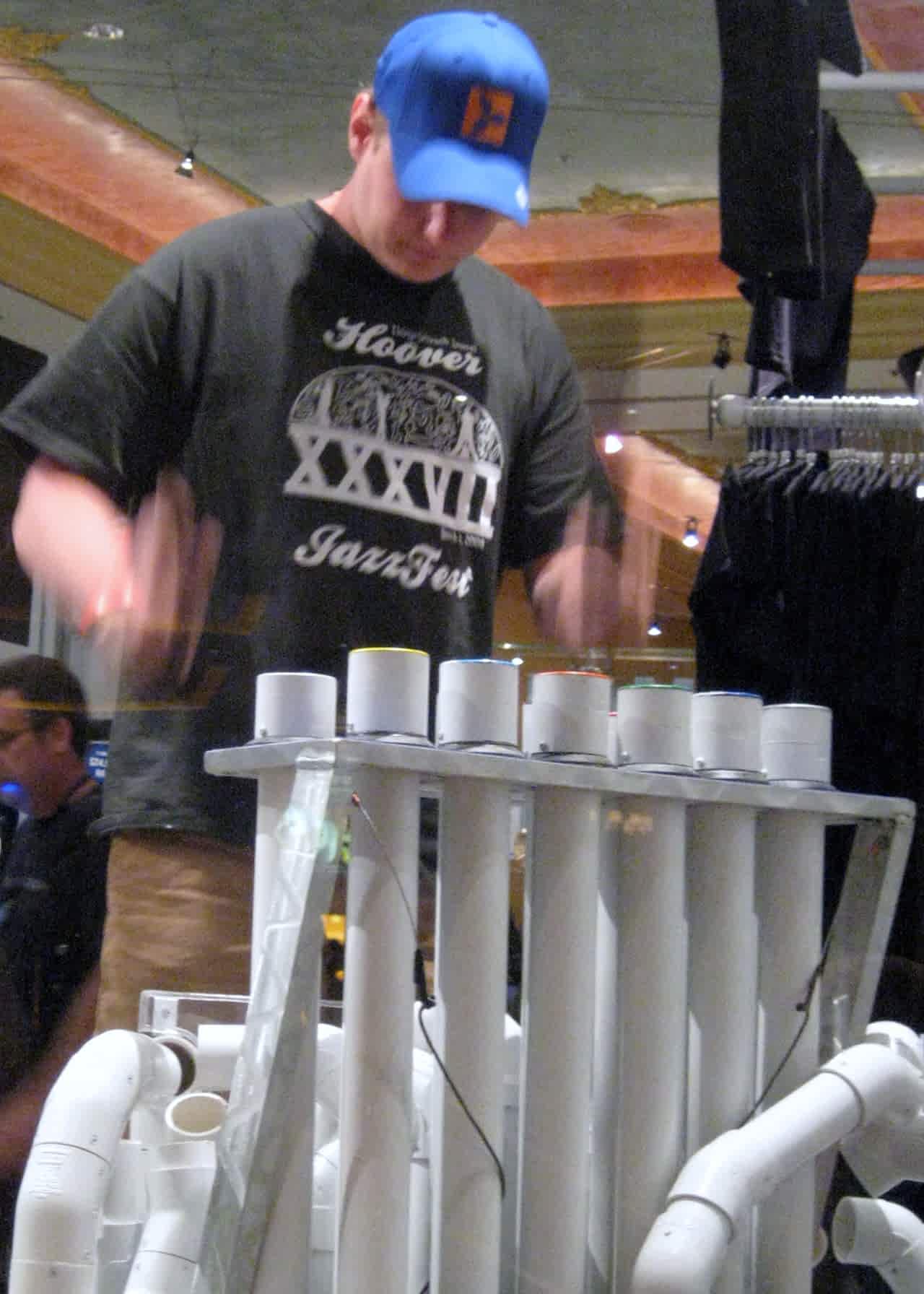 Monday, we wondered into the Blue Man Group store and I got a nice hat and sticker for my guitar case. As I was checking out, I noticed they had a PVC instrument on display in the front window. The guy told me to give it a shot, and I quickly figured out enough notes to pound out a very sloppy rendition of PVC Ⅳ, (another of my favorite songs).
Dream come true.
Dr. Warner couldn't resist, he had to try to play too.
He told me it's much more difficult than it looks, and I've seen them way too many times to be able to even produce anything that sounds musical from those crazy plastic pipes.
On the flight home, we all agreed that the trip would have been a phenomenal success, except that our goal was to drive the Lambo back, and it was still stuck in California.
Fortunately, we were still able to have a good time. Must be all that Warner Luck.
As an aside, as fun as seeing shows in Vegas is, if you aren't big on drinking and gambling, there isn't really much to do.
My first and last trip to Vegas was plenty for me.